About Company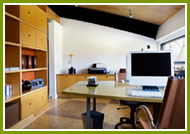 The company Rahul Sugar Products is a professionally managed dedicated professionals. Their latest venture surpasses every other method of manufacturing invert sugar syrup a new generation sweetner.
The Rahul Sugar Products is quite a new plant developed in 1997 in a small town of DHAMPUR in U.P. This plant possess a special place and a rank in asian industries association in the field of invert sugar manufacturing. This plant is second plant in India to produce invert sugar and first in India to manufacture invert sugar by cationic process.
Rahul Sugar Products ushers in a new concept for manufacturing invert sugar , based on an entirely new and modern process to make life more sweeter than ever before.
The invert sugar production capacity of this plant is 3600 mt per annum,
which is supplied throughout the country as well as it is also being exported. The company produces invert sugar in three grades namely diamond gel, energetic-h and golden gel.

Products
RSP's liquid gold is a premium invert sugar syrup that has been developed to provide an easy to handle alternative to granulated sugars. Invert sugar is ready to use clear and in soluble form. Unlike in conventional preparation of sugar syrup , invert sugar syrup cuts down time / labour, power and infrastural resources. It is carefully produced with fine sugar to provide consistent flavour and low colour.
Invert sugar syrup an equimolecular mixture of fructose and glucose
Inversion
C12H22O11
Sucrose
H2O

C6H12O6
Glucose
+
C6H12O6
Fructose
Features of our our Products :
¤ More sweeter than sugar
¤ Ready to use
¤ Extremely Stable
¤ Highly Purified
¤ No Crystalization
¤ No Fermentation
In this process, inversion of sucrose is carried out using cationic resins that are introduced into the liquid media which act as a strong catalysts, comparable to strong acids and bases.By choosing a cationic exchange resin of proper porosity and acidity, any degree of sucrose inversion can be achieved without the introduction of any electrolyte into the syrup.It is one of the best methods for producing invert syrup.
Inversion
C12H22O11
H2O

C6H12O6
+
C6H12O6
Internationally this is one of the best accepted as the best known for manufacturing invert sugar syrup, because it has attributes which no other process can match, namely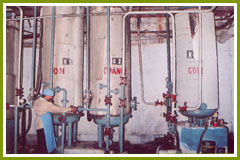 No yeast formation

Free from acids

No use of plaster of Paris (pop)
And the final product ..

has lowest ash content

is of constant colour and aroma

is self-preservative

is non carcinogenic and low on calories

is free from any chemical additives

is highly soluble than sugar
We incorporate the modern production techniques to improve the performance of our products. Utilizing new techniques, streamlining our production processes and our cutting edge research and development facilities have expanded our product range to keep up with the international trends.
» Large-scale production capacities
Huge production capacities ensure that product availability at short notice and at competitive prices, enabling Rahul Sugar to cater to major domestic and export requirements.
» Qualified Team
Able and experienced managers lead well qualified personnel and trained workers.

Being in the business for so many years and delivering consistently, we have built our reputation as manufacturer of quality products, who always deliver on time. We have acquired customers in a range of countries across the international spectrum.

Rahul Sugar Products
Correspondence Office
Mr. Rahul Gupta
LG-CS-18 & 19, Ansal Plaza,
Sec-1,Vaishali,
Ghaziabad- 201010.
Tel :
+ 91 - 120 - 4247184-185
Fax :
+ 91 - 120 - 4247185
Mobile :
+ 91 - 9412217957
Email : rahulsugarproducts@gmail.com, priya@rahulsugarproducts.com, info@rahulsugarproducts.com
Works
Dhan Laxmi Industrial Estate,
Near Nadehi Sugar Mill, Nadehi Jaspur,
Distt.: U.S.Nagar - 244712 (Uttrakhand)

Nagina Road,Near New Petrol Pump,
Dhampur - 246761,
Distt-Bijnor (U.P)